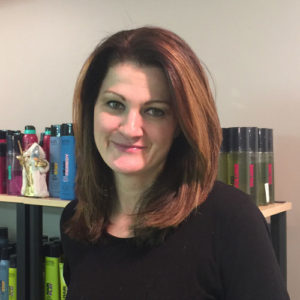 Hair Stylist
Alicia has been a stylist at New Image since November 2016 an has been a Cosmetologists since 1995.
A family friend introduced Alicia to this craft when she was just 14 years old. Her first job was at a salon in Carteret, NJ. Where she was shampoo assistant for 10 senior stylist. That sparked her desire to become a cosmetologist. She attended East Brunswick VOTECH where she graduated with her license in cosmetology .She worked in Central Jersey for 11 years. During that time she was certified by Matrix as a Master Colorist a certified trained cutter specializing in all persuasion cutting,razor cutting , and customized haircutting techniques, also by Copala as a certified technician in the Keratin Treatment.
In 2007 she relocated to Chatham where she worked for 9 years. She extended her studies to inlude, Brazilian Blowout, Diva curly hair cutting techniques. As well as others sources.
Alicia has taken many classes sponsored by the Company Goldwell/KMS including Color formulation, Hilift blonde techniques, Vibrant Reds, and color correction.
She recently attended a class at New Image given by National Artist Robert Brown in advanced formulation and foil placements.
She also participated in a cutting class given Goldwell National Design team member Neal Pitman.
Alicia's passionate about all types of hairstyling including. Cutting, color, updo's and event styling.
Alicia is welcoming new clients and is available Tuesday's and Wednesday's 9 to 5, Saturdays 9 to 4 and Thursday's and Friday's by request.